Light Switches Reviewed
Select from a huge range of light switches at Sparky Direct.
We stock leading brands like Clipsal, HPM, Clipsal Saturn, Hager, PDL and more.
When looking for light switches there are many factors you must consider,
Are you replacing light switches?
Are you building a new home?
Renovating?
Are you trying to set a theme with new modern looking light switches?
Are you looking for Light Switches with bonus Functionality
Are you replacing a light switch?
If you are looking at replacing a light switch you should try and match up the same style.
Sometimes it is easy to see what brand or type of switch it is when they are branded on the cover plate and sometimes you may need to remove the cover plate and look behind the panel.
Please note you should always use a qualified electrician if you need to remove the plate off the wall as the 240v contacts behind the light switch plate may be live and potentially give you a fatal electric shock.
Click here to see the range of different light switches available
Are you building a new home?
If you are building a new home your choice of light switches is endless, Sparky Direct stocks the most popular types and should you not see the range that you like, please contact us and we will try and sort it for you.
Please consider that some of the specialty switches such as Clipsal Slimline, Clipsal Saturn, Clipsal Prestige and Led switches may require special brackets or wiring that must be in place while the home is being built. So it is very important to talk to an electrician before any work has commenced to discuss the types of light switches that you may want to use in the home. Example: Clipsal Slimline switches require a special bracket to fix the light switch too, so that the switch appears slim against the wall. Clipsal Saturn switches may require extra wiring depending on the application, so if this is not done at the "rough in" (wiring in stage), it may be too difficult to wire after the home has been completed.
Renovating?
Should you be renovating you may need to match up your existing light switches to the other light switches already installed in your home. However you may be able to work in some modern styles and make them a feature or talking point in your room.
Clipsal Saturn light switches come in the following colours
Clipsal Saturn "Ocean Mist"
Clipsal Saturn "Pure White"
Clipsal Saturn "Espresso Black"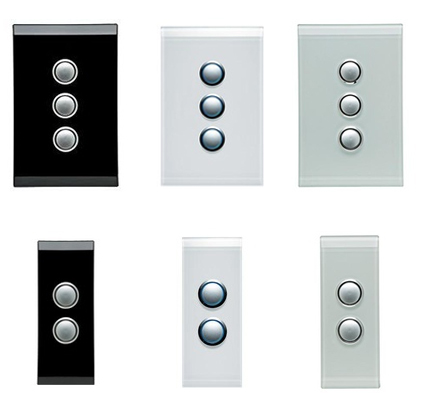 Are you trying to set a theme with new modern looking light switches?
The light switches that are available today can transform the way your home or office looks, There are so many styles to choose from, not only can you buy specific styles but you can also change many of the light switches covers without replacing the whole switch plate and mechanism.
Again you will need to see what brand and type of switch you already have or are looking to buy to see if they are compatible.
The best selling light switches - Clipsal 2000 or Clipsal Classic have a massive range of coloured surrounds that can be simply clicked on and off when required.
See the colour chart below - they include gold and silver.

Are you looking for Light Switches with bonus Functionality?
Sparky Direct also supplies light switches that have blue LED indicators on them - you can install these throughout the house and they can act as night lights, The Clipsal Impress light switches are rated at 20 amps and are a push button type of switch, they click into most standard Clipsal light switch grid and surround plates and you can choose to have the LED switched on when the light is on or Vica Versa. (electrician required)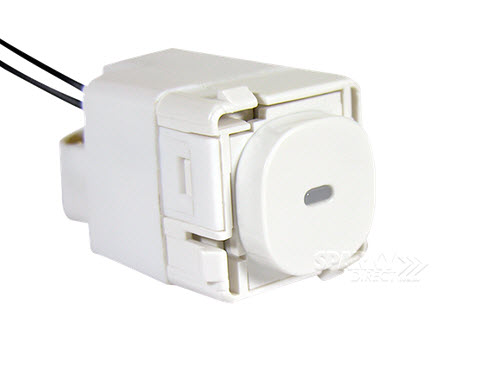 The center strip is the Blue LED and it provides enough light to be able to locate the switch at night. These light switches are perfect for kids hall ways, bathrooms etc.
Good luck with your selections
Light Switches Reviewed
By Andrew