Testimonials


SPARKY DIRECT CLIENT TESTIMONIALS


Over 4,000,000 products shipped Successfully.
Want to add a Testimonial Click Here
---
25/02/2019 5 Star Review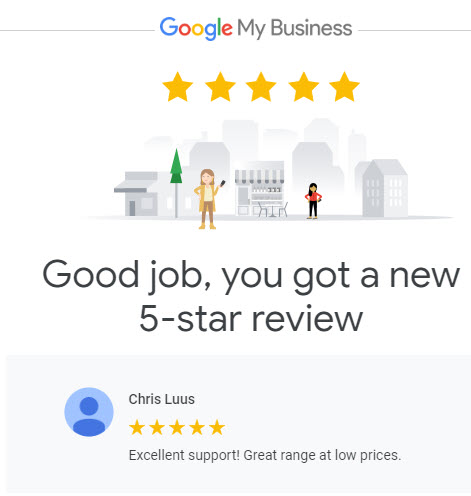 Google Review
---
30/1/2019
Thank you very much. My order arrived today and is exactly the product as described in your online store. Look forward to placing further orders with you in the future.
Singleton NSW
Email Review
---
29/1/2019 5 Star Review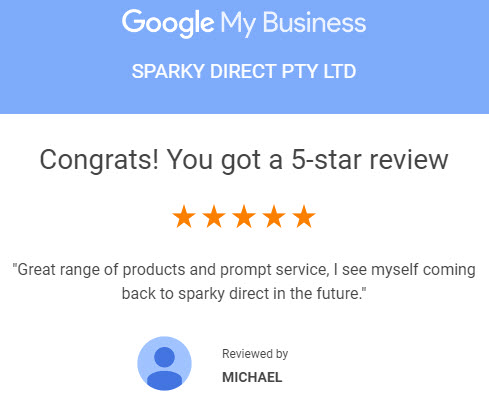 ---
24/1/2019 5 Star Review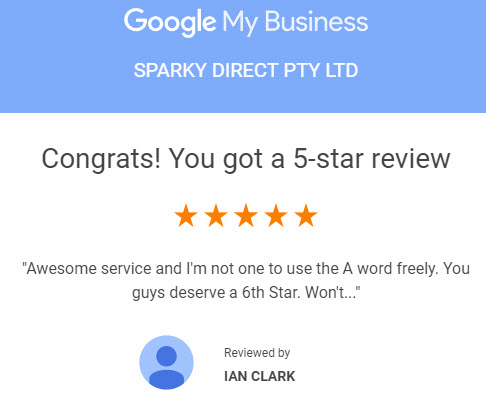 ---
20/11/2018 4 Stars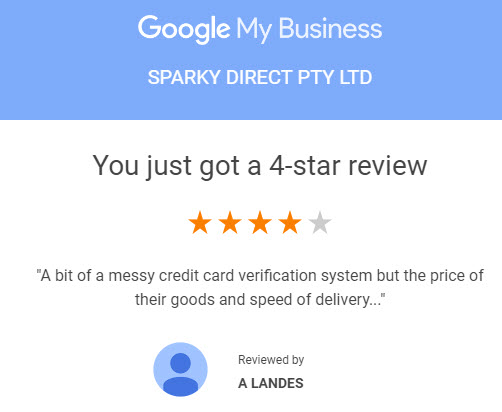 ---
11/01/2019 5 Stars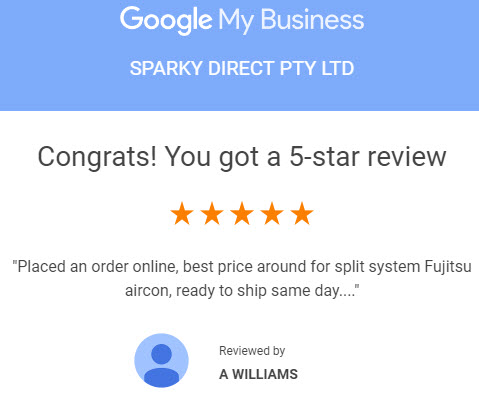 ---
20/11/2018
Hi Sparky Direct, I forgot that I had a Coupon. Doh!
Well impressed by the speed of service tho.
Goods arrived today
Excellent Service
Cheers Mike
Email Review
---
20/09/2018

Google Review
---
12/09/2018

Facebook Review 12/09/2018
---
03/09/2018
The fact that you can go on line to Sparkydirect and purchase what you need for a job and not having to go in to town which is a hour drive there and back is great for me. They are quick, cheap and easy to use I recommend them to anyone.
Rod Fish
Online review
---
04/09/2018
Can't believe how efficient the guys at Morayfield are! There's nothing too hard and they just get it sorted. No time wasted. Brilliant.
Keith
Online review
---
25/08/2018
Just wanted to congratulate you on the excellent service - and keen price - for the goods I ordered (Clipsal C2025WE and blanking plates.) Delivered in double-quick time.
Excellent!
Kind regards,
Denis
Email
---
25/08/2018
Fantastic... Over night delivery to Newcastle and great pricing. Will buy from again for sure.
David Burke
Google 5 Star Review
---
23/08/2018
Hi Guys
Package arrived today. fantastic service thank you
John Thomas
North Rothbury
---
15/07/2018
Just sending a big thanks for sending me a new 3 phase switch for my air conditioner. Got it delivered and fitted 3 days after the order, just in time for the cold nights. Fantastic service.
Chris Shoesmith
---
11/07/2018
Brilliant Service. Thank You
Sent from Iphone
Kerry Brazil
Gladstone QLD
---
11/06/2018
Hello Sparky Direct,
Thank you for your prompt attention to my order- it arrived today before lunch and I still cannot believe it was so quick !! Brilliant service!
Glenda Walker
Roleystone WA
---
03/06/2018
Ordered from sparkydirect a couple of times so far, great prices and excellent service, items dispatched within hours of order and received from Brisbane to the Hunter Valley NSW over night. Will deffinatly use sparkydirect again.
Brett Lantry
Google 5 Star Review
---
31/05/2018
The best web site, the best products, the best prices, and the best delivery. It's a wonder how the big wholesalers are still in business. It seems that those big firms are sales driven with a big emphasis on the margins, where as Sparky Direct is service driven. Keep up the stellar service and the transparent pricing and you will get all the sales!
---
15/06/2018
Very competitive prices and unbelievable service! Ordered power points and switches and arrived by courier the next day. Even the electrician doing the job who was going to provide the goods commented that he couldn't beat that price and wanted to know who I had bought them from! Highly recommend Sparky Direct to anyone building or renovating. Thanks again.
Julie Olender
Google Review 5 Stars
---
15/05/2018
This was the first time I used sparky direct and I'm super impressed. Not only are most of their prices the cheapest I can find, the delivery time was superb. Knowing that the items I want can arrive in Sydney from Queensland in a couple of days, and have every single item correct and accounted for, is what let's most other wholesalers down. I spent just under $1500, and will certainly be sending more of my business your way !! ...... thank you for a very hassle free service !!
Neil Patterson
Google Review 5 Stars
---
23/01/2018
Less than 50% off quality products, prompt delivery, no fuss.
Fine business Sparky Direct, see you again....
John Sharpe - NSW
---
06/09/2017
I am not a big Facebook user however felt strongly about giving you some positive feedback as I I received my smoke alarm today despite having only ordered it last night… your customer service is unlike any other in my experience. I will definitely be using Sparky Direct again.
Thankyou all .
Kind regards
Anne
---
08/08/2017
Hello Andrew and the team at Sparky Direct, I am pleased to have finally found a wholesaler that has prompt delivery and was delived correctly. I will definitely be dealing with you guys for majority of my stock. Pleasure doing business with your team. - Simon -Power Electrical & Air conditioning.
---
06/08/2017
G'day Andrew
My order arrived, complete, today.
Thank you for such speedy service to support your very compositive pricing.
Even the area over which you have no control - Australia Post - was spot on. I placed my order on Thursday; it arrived today (Yarraville, VIC), only 3 working days later!
If there's an open forum (other than Facebook - I'm not part of it!) where I can post some very positive feedback, please let me know.
Thanks again.
Wal
---
04/08/2017
Hi all,
All I can say is that you have a great service. You all have been very helpful from the time I ordered all my gear to the delivery. Thank you very much, and I will no hesitation in recommending you to other people.
Thanks again.
Rick Hastie
Electricity System Designer
Ergon Energy
---
27/6/17
Cheers Andrew,
Glad it worked out.
Very impressed with the service. Will be recommending.
Kind regards.
Mike.
---
20/6/17
Fantastic service I ordered the weather proof remote controlled power point on a Tuesday and it arrived on the Thursday to a remote address in the Hunter Valley NSW.
Don't think even Buzz Lightyear could have done it quicker.
Thinking about workshop lights so I'll be in touch.
Regards
Francis
---
31/05/2017
Absolutely blown away guys. I only ordered this morning and it has just been dropped on my desk. That's so much quicker than I expected, A+ service, well done!!
Kind Regards,
Travis Edwards
---
30/5/2017
I would like to just say VERY IMPRESSED with the service and delivery I couldn't believe that it arrived to my house the day after I purchased the item.
Thank you and I would highly recommend you to friends and family.
Kind regards,
Deanna
---
23/5/2017
Team
I are very impressed with the time in which my order was processed and delivered
Excellent service and thank you for that consideration
regards
Bill Boyd
---
18/5/2017
Hi, Just thought I'd drop you a quick note to say thanks for the fast and efficient service. I only ordered the items yesterday and they arrived this morning as per my instructions. Its a pity other companies can't provide the same great service as yours - well done.
---
16/5/2017
Sparky Direct . With this email I like to thank you for your great service, prompt and very efficient service, my order has been received and I'm a very happy customer.
---
29/3/2017
Everything was awesome, pricing, packaging, delivery...
---
08/3/2017
Dear Sparkydirect,
I was happy with all the items and delivery was ok.
Saved me time and money running around picking up items.
Thanks,
Rod
---
28/03/2017
Thanks great service just got my air con 20 mins ago.
Good work!
Illya
---
7/2/2017
It may be quicker to go to Coles, more convenient and sometimes I do just that. However, if the best product at the best price combined with the best customer service is what you are after - then Sparky Direct is the ONLY place to shop. I often purchase more than bulbs, and this rules out Coles. I only buy my electrical supplies from Sparky now. I just love the service, range and satisfaction of knowing I am buying from a professional who has our best interests at heart.
Michael Alexander
---
20/01/2017
My Dear friend Andrew,
I have nothing but praise for you and your amazing products.
Thank you so much for the excellent service, amazing shipping times and above all - the best products available.
I will be coming back for more.
I wish you a very happy and prosperous 2017.
Michael
---
28/07/2016
Hello,
Firstly thank you for your prompt delivery, it made our fit off so much easier.
Marc
---
15/07/2016
Just wanted to say thank you for a great experience shopping with you. Faultless, fantastic pricing and exceptional in all areas.
So glad we now have you on our radar.
From Ken's wife… Gaye
Calamvale QLD
---
08/07/2016
Got it the next day, all perfect – thanks for getting it out so quickly, you guys are awesome.
Regards, Kim
South Fremantle WA
---
13/06/2016
Great service and speedy delivery, and the product works great
Thanks
Kind Regards
Antonie
---
02/06/2016
With thanks for your prompt service. Product delivered today....
Sue Barnett
Waterford West QLD
---
12/04/2016
Was very happy with your service and price thank you heaps product was great price and arrived quite quickly also you kept me informed of product being sent out etc. So over all would recommend you to friends
Sophie Henderson
---
24/03/2016
Just a short thank you for the products that arrived at my home address before lunch time today, 24/3/16.
The two products were both in excellent undamaged condition and glade we took your advice with colour selection.
Cheers Bob. Barrett.
Valentine NSW
---
19/02/2016
Hi
I received the Elements today and they fit and work Thanks
What service you guys offer I couldn't recommend you guys enough I ordered yesterday got the goods today great hassle free service at affordable prices
Thanks for your help
Garry
---
19/02/2016
Dear Sparky Direct
Please be advised that our item below was received yesterday afternoon.
Cannot get over the promptness off the sale and delivery, Thank You so much.
Kind Regards
Malcolm Gray.
Dickson ACT
---
3/01/2016
I'm in very happy with your service. Web sites in the shop is very good. And will be happy to recommend you to any in my clients. Best wishes for 2016.
Mohamed
---
2/12/15
Hi Sparky Direct,
Suitably impressed with the wire strippers, I wish I had purchased these ages ago, my thumb & fingers wouldn't be so sore.
Ralph
---
03/11/2015
Thank you received today!!prompt and very professional-already installed.
Thanks,
Steve
Balmain NSW
---
02/09/2015
Thank you for a prompt sale.
The price was right.
The dispatching was fast.
I had the ceiling fan up & fitted within 2 days after I ordering it.
Well done.
Will use your site again.
Thanks.
Paul
---
19/08/2015
Hi, thanks very much.
Order arrived in excellent condition, and very quickly,
Thank you
Colin McAuliffe
Epping NSW
---
16/08/2015
Thanks Sales,
I made the order straight away. I am very impressed by quick reply to my query and amending website to enable my order.
Excellent work!
Cheers
Olaf
---
14/08/2015


Hi There,




I just wanted to thank you for your prompt service. I received the Pop Up yesterday which is days faster than the snail mail. This is the first time I have shopped with you and it won't be the last. I will be recommending your site to all my friends.




Kind Regards


Ian Walker
Lennox Head NSW
---
14/08/2015
I just want to say you have restored my faith in buying over the web. No mess, No fuss and quick.....thank you. One of the biggest problems on the web is that deadbeat traders don't have the product on hand even thou they have advertised it and then the fun begins, weeks not days of stuffing around. I have now developed a policy of one strike and you are out instead of the usual 2 or 3 and I am selective if traders don't pass the 'SNIFF' test.
Thank you again, you pass with flying colours and I will be back.
Mark Clifford
---
11/08/2015
Thank you guys all is well I can't fault the service and delivered to the west in a week
Well done
Thanks Gerrard
---
04/08/2015
Great service and i will definitely will be using your business again.
Regards Kevin
---
23/07/2015
Hi
My products were installed yesterday.
Look fantastic! Match my Siemens hot plate black glass etc.
It turned out I didn't need the 240v button for the oven as in Tasmania its not required (even though I had one there).
But happy so far. Haven't used them yet as kitchen not fully operational yet.
regards
Sophia Elder
Tasmania
---
22/07/2015
I am writing to congratulate you and your company on your great service and competive pricing on my recent purchase of an Air Conditioning unit.
I ordered the unit on Monday the correct unit was delivered at midday today, and it was installed and working this afternoon, brilliant !!!
Also I was phoned by the transport company early this morning to enquire when I could take delivery and a time arranged .
I would be happy to recommend you to anyone who may need your services.
Thanks and Cheers Denis Mitchell
---
15/07/2015
Great Service
S.Kelly
---
1/07/2015
Your service is amazing ! Fast, Efficient, Competative, Courteous and Knowledgable ! Congrats to you and your team !
A pleasure to do business with.
I will be back.
Kelli Kozicka
---
23/06/2015
Sales Team
Thanks for the email, and thanks for the prompt , courteous and efficient service.
Regards
Chris Zvirblis
St Ives NSW
---
13/6/2015
Thanks for the email
would deal with your company again
great service
George Ezzy
---
07/06/2015
Hi Guys,
Thanks so much for a fast and easy buy.
You were by far the cheapest for this product and your prompt delivery was great.
I want to also commend you on your email communication, second to none.
Overall, a very happy customer and will definitely return when I need something else.
Thanks heaps,
Annette.
Sydney
---
22/5/2015
Just a quick email to advise that I received the Order below today.
All GOOD, Thanks again, for my orders being supplied in a hassle free manner.
Regards, Tom
Buninyong VIC
---
19/05/2015
We are so very pleased with our coloured power points. They were a bit expensive for us, but they suite our new kitchen so beautifully, when the white ones wouldn't do.
Your delivery was excellent and should we need other products we won't hesitate to contact you.
Thank you
Robyn
---
13/05/2015
Thank you for the email.
Once again all was spot on with the order and delivery.
Regards
Nick
---
29/04/2015
Thank you for the excellent customer service received so far
May I ask if you have a catalogue so I can review some products we may purchase or have a need in the future ?
Tony Papas
---
21/04/2015
Thanks Cameron and Lee, fantastic service! Pleasure to deal with you. Your rates are by far the best. Good work on a great business. Going to convince our sparky to deal with you too. Meagan
Cowell SA 5602
---
09/04/2015
Thank you for the excellent service. Ordered last night and arrived this afternoon.
Regards Robert Dunlop
New Farm QLD 4005
---
30/03/2015
Fantastic services, Thank You
Cheers
John
Moorabbin VIC 3189
---
16/03/2015
I did thank you for your prompt response and will be sure to recommend your business to others. Thankyou. S. BARRETT
QLD
---
04/03/2015
Package arrived promptly and correct order..... Thankyou. S Barrett
Sue
Waterford West Qld
---
10/2/15
Sparky Direct
There are so good service. Why we have to go to the shop if we have some kind of good service like at you guy. Just one day to receive the order. Thank you.
Trung Nguyen
---
7/2/15
Sparky Direct
Thanks guys you do a great job, prompt reliable affordable service. I would rather get gear from you guys in Qld then my local electrical wholesaler!! cheers
Michael (email)
Western Australia
---
27/1/15
Sparky Direct
Excellent service, fast delivery and great price. Thankyou
E Webb (Email)
Tasmania
---
2/3/2014
Dear Lee
Thank you for delivering the 2 Typhoon Ceiling Fans (lights, bulbs, extras) this morning. I REALLY appreciate it.
Was a tad busy today, but will ring a recommended electrician tomorrow to arrange installation of these beauties.
I took the liberty of recommending your firm to the Body Corporate. Your prices are great (less than most other similar companies) and your service is tops.
Thanks again!
Regards
P Marie Baxter
North Brisbane
---
21/11/2014
Hi Dispatch,
Thanks, I'm impressed. The items arrived yesterday in good order and condition. Wow, you guys don't mess around to achieve timely delivery. (Here's me thinking I have stacks of time to do some other things before the items arrive, when in no time at all they turned up - impressive). Thanks.
Regards,
Murray (Forster NSW)
---
13/11/2014
Received item today, thanks again for great service!
Brian Terry
---
29/7/14
Thank you fro the brilliant service.
Regards Robert Dunlop
---
13/5/14
Once again your company has shipped my order safely & efficiently from Queensland to Rural South Australia. Thank you for the incredible service.
Richard S.A.
---
8/5/14
Sparky Sales,
Thank you for the fast delivery of the oven element I ordered on the evening of Mon 5 May2014. It arrived here in Clifton Beach at 11 am this day.
Thank you
W Kinchin.
---
15/4/14
Hey, got the package today! Service you're providing is incredible, and great prices for those items too.
Thank you so much, it's a welcome change from the service we've experienced in other parts of our renovation.
Cheers
Leigh
---
17/3/14
Hi Lee,
Received it today, awesome service.
Thank you,
Wim.
---
2/3/14
Last friday I received my previous order and I am really surprised in how fast you shipped the items as well as the quality. I will never go back to local suppliers.
Thanks.
Ricardo
---
15/1/14
Thanks for the great service super fast delivery will buy again!!
Ramon Peachey
---
5/8/13
Just like to congratulate you on your service. Ordered goods on Sunday evening and they arrived the next day.
Amazing!!
Thanks
Regards
Peter Craig
---
15/7/13
Hi, I wish to commend your company on the service and prompt postage of my order. I received the package this morning.
Thank you
regards
Bob Haywood
---
5/8/13
Just like to congratulate you on your service. Ordered goods on Sunday evening and they arrived the next day.
Amazing!!

Peter Craig
CMS(Contract management Services)

---
10/7/13
Order Receieved in less than a day!!!
Thank you for your fast service.
Received via feed back page
Strickland64
---
5/7/13
Hi Sparky Direct
I would like to thank you for the awesome delivery service. I am in NSW and got my order the next day. Same as last time.
Your service and products are exceptional.
Thankyou so much.
Kind regards Julie :)
---
13/12/12
Andrew-Hi,
Received my order this morning.
Thanks
Courier was good. Gave me some advice on Home Brew Beer!!!
Peter
---
29/11/12
Dear Sparky Direct,
Thank you very much.
I appreciate all the information and the dedication Sparky Direct show in dealings with its customers.
May not be buying again until the new year, so Merry Christmas to you all.
Kindest regards,
Michael Alexander
---
27/11/12
Hi,
I received this order yesterday.
Thanks you for your great service.
Sam
---
19/11/12
Wow that was quick - thanks for the great service!
Will Gout.
---
17/10/12
Thank you for the very quick delivery.
Regards
John
---
16/10/12
Thanks champion!
Regards,

Ashley Foy-Moxey
Services Manager,
AFM Trade Services
---
Survey Responses - all via email
Amazed at the price difference to wholesalers. Initially skeptical about getting genuine products but this stuff is all ridgey didge. Parts appear to be posted on day of order also. My only regret is I didn't find you earlier.
20/12/2012 7:07 AM
---
Will definitely use Sparky Direct again, good website, good information, goood ordering process, good pricing, good delivery times, what more could anyone ask for. Keep up the good work.
16/12/2012 6:49 AM
---
The item was delivered to my door faster than my local electrical supplier could get the item ordered in. And at a much better price. I highly recommend Sparky Direct.
11/12/2012 5:30 AM
---
Your service was fast and friendly. I rang to change my order and you were very helpful and it was no problem fopr you to change it for me.
Sparky Direct can supply parts to me at an affordable price with an albeit slightly slower freight service than their competitors but the charges are really reasonable and our clients are not bothered by a couple of extra days. 3 Cheers SD's you beat the WA people hands down!
9/12/2012 8:59 AM
---
Unexpected freight cost caused me not to proceed with your servce and a refund was given.
8/12/2012 5:39 PM
---
Great service. Received the product within a few days. David
5/12/2012 7:41 AM
---
Hassle free purchase delivered straight to my door. Thanks for the great service!!!
4/12/2012 7:06 PM
---
More than just having the best prices around, your cusomer service is great... it is win win result - best prices - greatservice, deivery was within 2 days. Highly recommended
Great service
3/12/2012 9:30 AM
---
It is so convienent to use Sparky Direct don't have to chase all over town you know if its in stock before ordering and fast door to door delivery makes it all worthwhile Don, Townsville
26/11/2012 4:19 PM
---
Great Company - Great prices - Good service
25/11/2012 7:14 PM
---
Low prices, easy ordering, fast delivery - who could ask for more? Some items only half the "trade" prices from major electrical suppliers. Great! Regards, LeanMachine
good to be able to purchase what I need at a reasonable price, when I want it. My normal work hours make it difficult to travel the 100km round trip to the wholesalers.
21/11/2012 7:00 PM
---
very affordable quick service with the items as described as they say in the movies I shall return thank you
21/11/2012 5:07 PM
---
Up here in the PortHedland area 56 series gear is just so overthe top price wise. Even with my small orders + frieght I do save around 40% on the 56 series prices for equilvent materials. The cost of the frieght is always covered by the savings made Best regards. Den.
20/11/2012 9:34 PM
---
Great product, delivered quickly.
20/11/2012 2:03 PM
---
Fantastic easy to use online catalog & ordering facilities with good competitive pricing plus delivery to your back door - What more can you ask for! I have already recommend a number of my friends in the trade to check out your store & have positive feed back from them. Keep up the good work Sparky Direct! Darren Waterhouse
20/11/2012 5:29 AM
---
Great service usually arrives next day
19/11/2012 6:31 PM
---
When I need electrical items I automatically get in touch with Sparky.
14/11/2012 5:15 PM
---
Good prices and fast delivery.
12/11/2012 6:33 AM
---
great business you have built. I will be purchasing a lot from Sparky Direct.
11/11/2012 5:47 AM
---
I couldn't believe how quickly my purchase arrived.
Thanks for the extremely fast delivery to FNQ and your excellent communications are greatly appreciated.
9/11/2012 7:34 PM
---
Friendly helpful staff, propmt service and delivery. Highly recommended to deal with.
5/11/2012 7:14 AM
---
orders are dispatched and delivered in expected time. I have no problem ordering on line from this company
Three Days delivery
31/10/2012 6:09 AM
---
My first transaction with Sparky Direct gave me a well known product, fast service and at a very reasonable price. Will do business again with this company.
27/10/2012 3:40 PM
---
Great crew of people to deal with. In my experience they will follow up a $5 item with the same professional approach as a $500 order.
22/10/2012 3:41 PM
---
Excellent range of products with them all easily found on your web pages. Sparky Direct is a good company to deal with
20/10/2012 7:17 PM
---
Good on ya, Sparky Direct.
20/10/2012 10:56 AM
---
I love the prices listed next to item rather than mystery prices at regular wholesalers thanks sparky direct for your quick prompt quality service look forward to doing business with you in the future
Great price and service Would recommend to friends
18/10/2012 9:41 PM
---
Sparky direct online service is a convenient and trustworthy way to buy electrical goods online. There products are very competitive and also quite a range to choose from. In all Sparky Direct is a safe versitile online electrical store that is easy to use with product delivered to your door at one low rate. Thank you Sparky Direct
18/10/2012 7:15 PM
---
Love being able to shop from home and have your parcel within a few days Thank You
15/10/2012 2:03 PM
---
Great pricing, good delivery times, would highly recommend
15/10/2012 9:59 AM
---
Prompt, accurate and convient service. If you plan ahead Sparky Diect saves a lot of time shopping arround.
What a pleasure dealing with Sparky Direct, the prices are extremely competative and the delivery is very prompt. I will certainly be using them again and encourage others to do the same, Thank you Sparky Direct.
14/10/2012 3:16 PM
---
After a small problem with a recent order the staff at Sparky Direct were very helpful, and a new part was received within 2 days to Central NSW. Couldn't ask for better service than that!
14/10/2012 5:57 AM
---
Sparky is a great company to deal with quick service with great products
12/10/2012 2:52 PM
---
Received today 2.40pm. Can't believe the fast service or the price.
Was quoted $130 (competitor) and had to pick it up from Burleigh, 30 k away, and with a 5 day wait.
(Sparky Direct Price inc Delivery $53.79 - ordered 10/10/12 3.34pm arrived 11/10/12 2.40pm - less then 24 hrs)
Will be telling everybody.

Best Regards
Barry Whyte

Email 09/10/12 - QLD


Recent Face Book Comments

Hi Joshua

I am happy to wait for the back order.
Thank you for such great service, I am very impressed.

Kind regards Andrew

Email 22/02/12 -
Thank you so much for all your help with this Josh!

Have a brilliant weekend!

Cheers liz

Email 10/02/12 -
Just a quick message to advise that I have received the 4mm2 Building Wire Cable today, refer below for details. All OK. Thanks again, for another painless purchase.

Regards Tom

Email 03/02/12 - Victoria
Order Arrived 25/1 . Many Thanks for your Excellent Service.

Regards Ross

Email 25/1/12 -
Western Australia
Thank you . If Turnaround is always that fast I will be buying alot more from you guys.
Cheers

Regards Brendan

Email1/12/11 -
ACT
Thank you so much for the service and your quick response.
I'm sure you will be hearing from me again in the near future. Enjoy the rest of your day.

Regards Fernando

Email 2/11/11 - Baulkham Hills NSW
Thanks Joshua,

Parts arrived today & already utilized on the job.
Look forward to dealing with you again.

Regards Rex

Email 24/10/11 -
From www.renovateform.com.au

I made the order through SparkyDirect Monday last week, and it turned up today, sent via Fastway couriers (Who seem to have an average of a week+ delivery time from over East to WA, that's three times running for me now). I'm really happy with the price, and the fact that they stocked Clipsal for the GPOs and RCD/MCBs.


Email 6/09/11
Thanx Guys

Received my order a pleasure doin' business with ya!

Cheers Gary

Email 24/07/11
Joshua
You dont give yourself and your company enought credit. My order arrived in Lismore today I rang the transport company up and went and picked it up today......so it is here on Wednesday........good work......great work.......fast delivery.... that is all that is needed once you have the name of the transport company we dont mind picking it up from the transport depot....
thanks again.
I tried to ring you this afternoon to personally thank you but there was no answer.
Clara
Email 19/07/11
Josh
Just wanted to share you a little bit of positive feedback with you. The customer was very delighted with the prices and delivery of the last order, he was especially impressed with the very nice looking down lights.

Kind Regards
Rehne

Email 8/07/11
Hi Joshua,

Thank you very much for the prompt shipment and the update.

Look forward continuing to purchase from you.

Best regards,

Emil Dimitrov, Artarmon, NSW
Email 08/06/11
Hi Joshua,

Just got home to find my order on the front verandah.
Thankyou very much for the extra effort you have obviously taken to get this gear to me by the weekend. It is very much appreciated.
Stuart
South Townsville
Email 17/11/10
Hi Joshua,
Thanks for the quick reply. I received the package today - everything is great!
Cheers,
Geoff
WA
Email 28/09/10
Sparky Direct
Thank you very much. Have received the cooktop this morning, Appreciate the speedy service.
Regards
Brad Hosking
Maudsland QLD
Email 23/07/10
Dear Sir

This is just a quick note to say that I am particularly impressed by the excellent service and speedy dispatch/delivery of my order (ordered Sunday; received 4pm Monday).

Your service has convinced me to put you on my list of online shopping destinations and to recommend that others do the same.

Thankyou

Brenton Thompson
Satisfied customer
14/12/09
Great products, great price, great service, prompt delivery even to Far North Qld.
I can order anytime and quoting jobs is now a breeze as all my prices are on the screen day and night.
I cover the cost of the freight with the savings on just one item.
I've never been busier thanks to Sparky Directs competitive edge.
Brenton Parnell
Eacham Electrics
Far North Qld

"It arrived today by courier, Thank you all at Sparky's for all your assistance and excellent customer service.

It has been a pleasure doing business with you"
Michael Markham
mike.angie@bigpond.com
16/10/2009
Hi Sales,

Just a quick email to thank you for making my stock ordering easy, products arrived within 1 day after placing the order. Great range and thanks for the sample pack.

Darren Smith - Air Sparks - Caringbah NSW

To Sparky Direct,

I am extremely impressed with your prompt delivery of goods and magnificent service that you provide. The competitive prices are too hard to pass by and you delivered quicker than our usual suppliers.
The website is extremely easy to use and I will certainly not hesitate to recommend you. I will be in touch in the very near future for more product.

Congratulations on a great job.

Regards, Bob

Sparky Direct,

Hi thanks for sending the gear I ordered last week I received it today, I can't wait till I go to Morayfield to visit you lot at the store there.

Thanks Again

Mark C
Katherine, Northern Territory

Dear Sales Officer

Thanks, Air Conditioner has been delivered today.

Damanjot Kaur
Adeliade, South Australia

Well done Sparky Direct!
Your customer service, pricing and speed of delivery
makes it all too easy to do business with you. I feel confident every time I do an order.
It's great to have someone keep the other wholesalers honest.
Keep up the great work.

John
Morayfield

Sparky Direct,

"Received my order today, thank you very much.
You can be assured I will be dealing with you again"

Simon Smith
Townsville, Queensland
2/02/2010
Dear Sparky Direct,

"Just letting you know that my item has arrived in perfect condition. Thank you kindly for your efficient service and speedy postage....

Thank you and kindest regards, "

Lindsay Chaffer
Pakenham, Victoria
13/01/2010
To Sparky Direct,

"Thank you for your Prompt Service"

Ian Muir

Jamboree Heights, Queensland

To Sparky Direct,

"I received the goods today, Well done on your prompt and value for money service"

Kind Regards

Ian Walters,
Victoria Point, Queensland