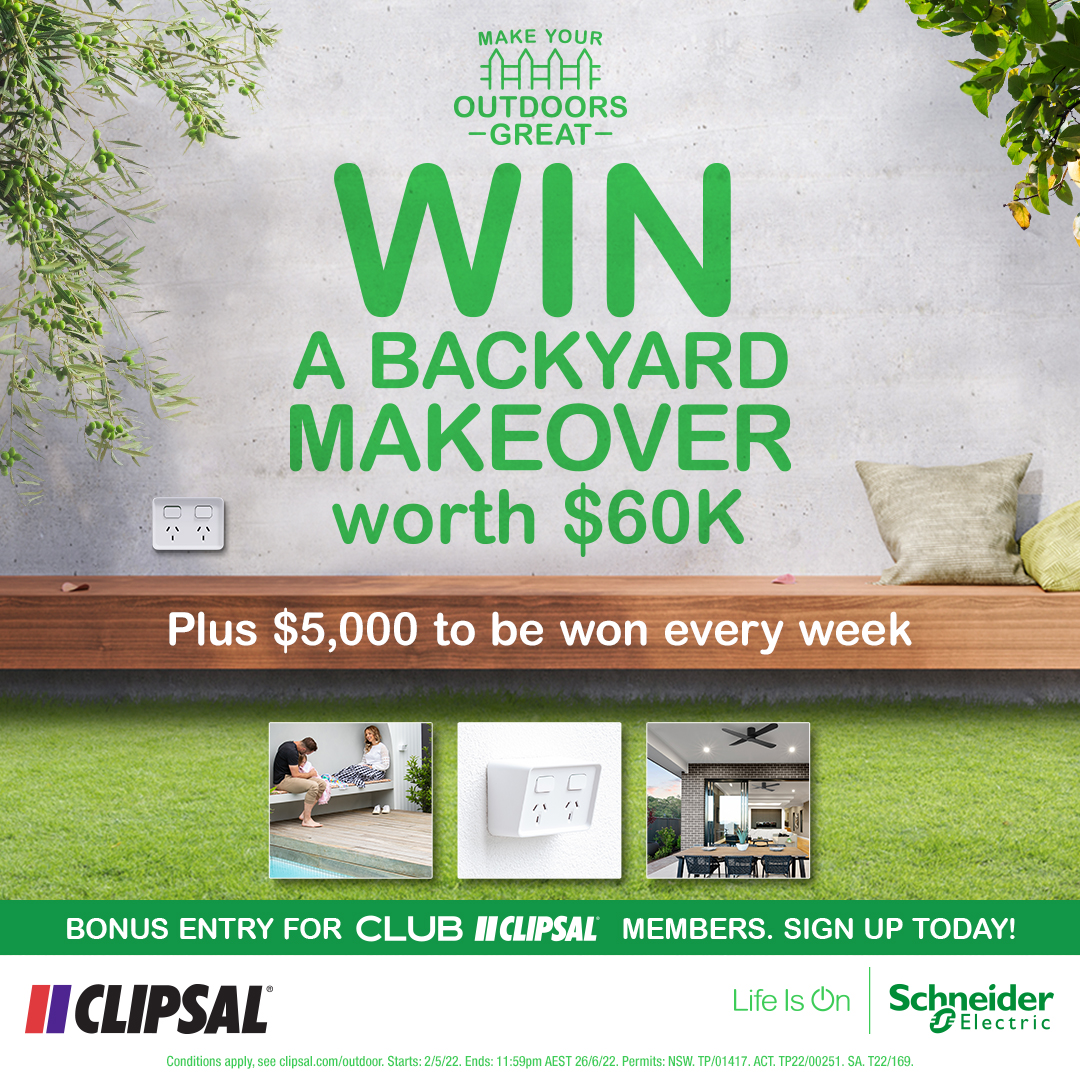 WIN to make your outdoors great!
Could your outdoor space do with a little (or a lot) of sprucing up? Well now's your chance! Clipsal is giving one lucky winner a massive $60K to give their backyard a complete makeover. PLUS there's also $5,000 up for grabs every week.
Want a new entertaining deck? How about a BBQ with all the bells and whistles? Stop dreaming and start entering today!
What do you need to do?
1. Spend $300+GST on Clipsal Outdoor products online or in-store.
2. Visit Clipsal.com/outdoor and upload your receipt or invoice.
3. Get a BONUS entry if you're a Club Clipsal member. If you're not already, you can sign up quickly and easily at sparkydirect.com.au/Club-Clipsal and join Australia's largest network of electricians.
- Terms and conditions apply (see below) -
ICONIC OUTDOOR PROMOTION PRODUCT LIST
ICONIC OUTDOOR
| | |
| --- | --- |
| O3015-XW | Iconic Outdoor Single Switched Socket IP54 |
| O3015-BK | Iconic Outdoor Single Switched Socket IP54 |
| O3025-XW | Iconic Outdoor Twin Switched Socket IP54 |
| O3025-BK | Iconic Outdoor Twin Switched Socket IP54 |
| O3041HA-XW | Iconic Outdoor Single Switch IP56 |
| O3041HA-BK | Iconic Outdoor Single Switch IP56 |
| O3015T-XW | Iconic Outdoor Single Switched Socket with Timer IP54 |
| O3015T-BK | Iconic Outdoor Single Switched Socket with Timer IP54 |
| O3000CE-20 | Iconic Outdoor Conduit Entry 20mm |
| O3000CE-25 | Iconic Outdoor Conduit Entry 25mm |
| O3000CE-20-BK | Iconic Outdoor Conduit Entry 20mm |
| O3000CE-25-BK | Iconic Outdoor Conduit Entry 25mm |
LIGHTING
| | |
| --- | --- |
| TPDL1C2 | Downlight LED, 750 lm, CCT 3K/4K/6K – White Trim |
| TPFLS50LED | Floodlight LED, 50W, 4000K, IP65 – Black Body |
| TPFLS10LED | Floodlight LED, 10W, 4000K, IP65 – Black Body |
| TPFLS20LED | Floodlight LED, 20W, 4000K, IP65 – Black Body |
| TPFLS100LED | Floodlight LED, 100W, 4000K, IP65 – Black Body |
| TPFLS20SENLED | Floodlight LED, 20W, 4000K, IP65 (with sensor) – Black Body |
SENSOR
| | |
| --- | --- |
| 750WPR5-BK | INFRASCAN Outdoor Sensor 3 Wire, 5th Gen, IP66, 10A - Black |
| 750WPR5-GY | INFRASCAN Outdoor Sensor 3 Wire, 5th Gen, IP66, 10A - Grey |
| 750WPR-GY | INFRASCAN Outdoor Sensor 3 Wire, IP66, 10A - Grey |
SWEEP FANS
| | |
| --- | --- |
| C4HS1300-WE | Ceiling Sweep Fan, Caloundra 4 Blade 1300mm - White |
| C4HS1300-AN | Ceiling Sweep Fan, Caloundra 4 Blade 1300mm - Anthracite |
| C4HS1300L-WE | Ceiling Sweep Fan, Caloundra 4 Blade 1300mm (with Light) - White |
| ZENFAN-ZB | Ceiling Sweep Fan, Zen 4 Blade, 1400mm - Black |